There'll never be a better history of the early days of Marvel!
––Stan Lee ('nuff said!)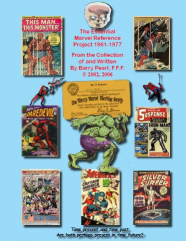 The Full Tale of Marvel Can Finally Be Told!
Because you demanded it! Barry Pearl's definitive 1,147-page history of Marvel's genesis is half a century in the making. But we realized that if we let Barry keep editing it, it's going to take another fifty years to publish and we'll still be here waiting by the time Captain America finishes his next defrosting cycle!
So using the magic of this newly-invented thing called the Internet, we're rushing it out to you now in electronic format. We're in the process of arranging publication for a print edition, but in the meanwhile, if you're anxious to get your own early-bird electronic collector's edition–bound to be worth millions for your kids someday (at today's rate of inflation!)–just keep reading to learn what you'll get inside this amazing volume.
Or if you're a Real Frantic One and you can't even wait that long to get your hands on this hot item, click on this link and you'll be fast-forwarded straight to the ordering instructions!
What's Inside
In Barry's own words:
This book is uniquely about the Marvel Age of Comics 1961-1977. . .Every single story, every single comic is covered here. That is about 3,500 comics and 3,700 stories. Plus about 250 reprint comics and another 280 black and white magazines. Along with each comic's history, every comic, every story, features:
The title, date and number of all the comics (and a separate section for the magazines) that made up the "Marvel Age."
A summary of every story and references (with links) to related comics. All comics have been reviewed rated from one to five stars.
Full credits for each story (editor, author, artists, plotters, letterers, etc.).
Full credits for all 4,000 covers, which also features the street date for all comics (not just the publication date).
Thousands of full color scans, all from ORIGINAL Marvel and Atlas comics.
Character Map: A separate list of the guest appearances of every major Marvel hero or villain in their published chronological order.
Journey's End: Ties up the loose ends of finished series that didn't finish.
"Not Necessarily" the Marvel Age Publications, featuring Evil Knievel, FOOM, Pussycat, Captain Britain, Spidey Super Stories, and Marvelmania.
A feature on Marvel formulas.
A list of credits by creator, editor, writer, artist, inker, etc.
A History of the Marvel Age with a grid featuring the publication date for every comic and highlights from each month and year of the Marvel Age.
The Reprint Comics of the Marvel Age, telling what comics appeared in each reprint comic and where they had been edited.
Reproduction of fifteen years of Marvel merchandising, from pillows, sweat shirts, statues, and web shooters to Hostess Twinkies.
The PDF features audio of Stan, Kirby, Romita and several others. Also includes the original MMMS recordings and themes.
A list of Atlas publications and reprints.
Hundreds of quotes, many never before reprinted, unique to this book.
Finally, the notes and commentary. Most concentrate on the creators and not the actual stories. The commentary here focuses on the actual stories.
To order your interactive PDF of The Essential Marvel Age Reference Project for $29.99, just click on the button below, and you will be redirected to a PayPal order page.
You can order using your credit card or a PayPal account. PayPal will process your order even if you don't have a PayPal account.
IMPORTANT: After paying, you will be redirected to a receipt page with a button that says "IMPORTANT: Click here for password to complete your order". When you click on this button, you will be sent to a page on our site where you can register for a username and password. You will also receive an email with your password information for future reference.
(NOTE: We are currently experiencing some glitches with the post-purchase automated email containing password information, apparently due to a software upgrade. Barry and I are working to resolve this, but until it is fixed, you may find you do not receive your password for your download immediately upon purchase. If this happens, please contact me or Barry and I will fix this for you manually ASAP and make sure you get your download access.–Roy)
Here is the button to click to redirect you to PayPal's order page:
The Essential Marvel Age Reference Project is one of the most invaluable books in my comic book collection. I find myself turning to it time and time again to relive my favorite memories from the Marvel Age and to learn new things about my favorite titles, characters, stories, and creators. I'm excited to have this opportunity to help Barry share it with you. I know you'll enjoy it as much as I have.
Excelsior!
Your Friendly Neighborhood Webmaster,
Roy Rasmussen
P.S.: But Wait! There's Still More!
(I always wanted to say that.)
Your registration entitles you to free lifetime Silver Member Level access to our blog and forum!. Our Silver Member package is yours free for life when you order Barry's book, as a way of thanking you for ordering through this site.