My Australian relatives have reminded me that January 26 is Australia Day, so to celebrate I wanted to give a nod to our friends Down Under and give a brief introduction to Australian comic book characters. For a much more informed treatment than I can provide, I refer readers to the excellent resources on An International Catalogue of Superheroes, Tabula Rasa, and the OzComics Facebook page.
From these sites and Wikipedia, we learn that just as Australian wildlife has developed in isolation, World War II prohibitions on imported publications encouraged the Australian comic-book industry to develop along an independent path from foreign influence during the 1940s and 1950s, after following British and American trends in the 1930s. This produced a first generation of Australian Golden Age characters, including some characters resembling American Golden Age characters, such as the the Tarzan-like Yarmak and the Lone Ranger lookalike the Lone Avenger, along with such intriguing original characters as Doctor Nikola–a seeming prototype for Sax Rohmer's Fu Manchu–and even an Australian Iron Man who preceded his American counterpart.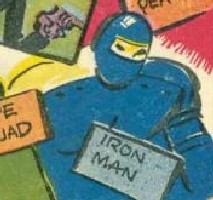 The return of American comics to the Australian market in the 1960s tended to discourage domestic production, producing a slump that lasted into the 1980s. At that time the independent trend sweeping through the industry revived the Australian comic-book genre. In 1985 Cyclone! Comics (later called Southern Cross Comics and Southern Aurora Comics) led the way, introducing a Golden Age character called the Southern Cross; the Australian superhero team the Southern Squardron and their New Zealand counterpart the Waitangi Rangers; the cosmic superhero the Dark Nebula; and the Jackaroo, an outback crimefighter who is somewhat like a comic-book version of Crocodile Dundee.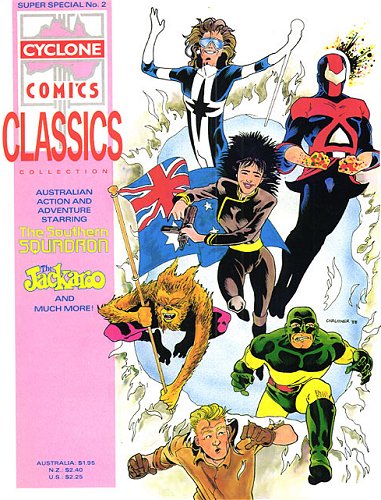 Other publishers and titles like Fox Comics and Phantastique pushed the Australian comics revival in a more underground direction, a trend that has continued as the industry has continued to develop. One of the most important publishers of the past few decades has been Phosphorescent Comics, publishers of The Watch and Dunwich among others. Other creators have gravitated towards children's publishing and other areas. Today Australian comics creators have teamed up with the Australian Society of Authors and are influencing foreign publishers as much as the other way around, a trend that will undoubtedly continue.