By now many of you know about the mid-credit scene at the end of the Avengers movie. If you haven't seen it yet I won't spoil it for you, but after the opening week's box office success, it should come as no surprise that one or more sequels is a strong likelihood. (And so far all of you who have voted in our poll have said you'd like to see a sequel.) The mid-credit scene gives some hint of the comic book storylines that will most likely form the basis of the first sequel. What other storylines would make good sequels?
I've added a poll to the right sidebar listing some of the major Avengers storylines that have featured prominently in the comics and been adapted into previous animated treatments. Previous Avengers adaptations have included the 1999-2000 cartoon The Avengers: United They Stand, the Lionsgate Ultimate Avengers films, and the current ongoing Disney series The Avengers: Earth's Mightiest Heroes. In the poll I've listed some of the storylines that have been floated in these earlier adaptations, along with a few other prominent ones from the comic:
The Kree-Skrull War
The Avengers vs. Hulk
Avengers with Scarlet Witch and Quicksilver vs. Magneto
Black Panther joins Avengers vs. Masters of Evil
Ultron sends Vision vs. Avengers
Wonder Man vs. Avengers
Kang vs. Avengers
Swordsman vs. Hawkeye
Avengers and Sub-Mariner vs. Attuma
Avengers vs. Zodiac
House of M arc
Avengers vs. Doctor Doom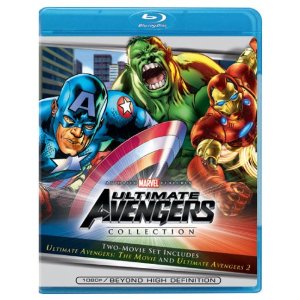 Ultimate Avengers Collection [Blu-ray]
I like a few of these for their potential to introduce new characters and cross over with other Marvel movie franchises such as X-Men and Fantastic Four. Some of the other ones could make for great drama and action. I like the Kree-Skrull War and the House of M arc for the big battle scene possibilities.
Which of these do you think might make good sequels? Can you think of any other storylines that might make good sequels? Vote in the poll on the right sidebar, and if you have any additional comments, add them below and let us know what you'd like to see.