I was a young unthinking teenager when I first (read) Spider-Man. But the years have a way of slipping by, of changing the world about us, and every boy sooner or later must put away his toys and become a man.

–Stan Lee, "Spider-Man No More."
Batman 1966 Blu-ray
In this era of social media, it would be near impossible to describe the coming of Batman in 1966. For the first time in history media was omnipresent and instant. Radio was now portable, music inescapable, TV was new and news was immediate. Magazines and newspapers were still strong. So when the Beatles, James Bond and then Batman, in 1966, made a splash in the media, everyone got wet.
Once incredibly popular in the media super-heroes were avoided like poison after the congressional hearings of 1955. Senator Kefauver's committee blamed comics for juvenile delinquencies, illiteracy and, yes, homosexuality. Prof. Frederick Wertham claimed that Batman and Robin lived in a perfect homosexual relation and kids could be drawn to homosexuality just by reading about it. (That's why Aunt Harriet was added to the TV show). Comics became heavily censored. Singled out in the hearings, Batman had to change, curtailing the violence and the darkness innate in the character. So he began to get girlfriends and silly. We got Bat-Mite, Bat Hound, Bat Woman, Bat Apes, Bat People and Bat Baby. And instead of fighting crime, he fought Aliens, Martians, Cavemen, Giants, Monsters and even Thor. So it was a big deal to finally see a super-hero come again to TV. And as the ad said, "It was Batman, it couldn't be anyone else."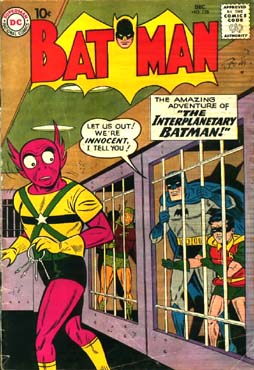 How disappointing it was for me to see those first episodes.
By the mid-1960s comics had begun to grow up. You see that in the Marvel and many of the DC comics of that era. With failing circulation, DC, in 1964, began the "New Look Batman" and returned the Bat to his roots as the world's greatest detective. Not just a warrior, a thinker. Still censored, but not silly, DC removed Bob Kane, Batman's creator and brought in a new writers and artists. So I thought this is what we would be seeing on TV.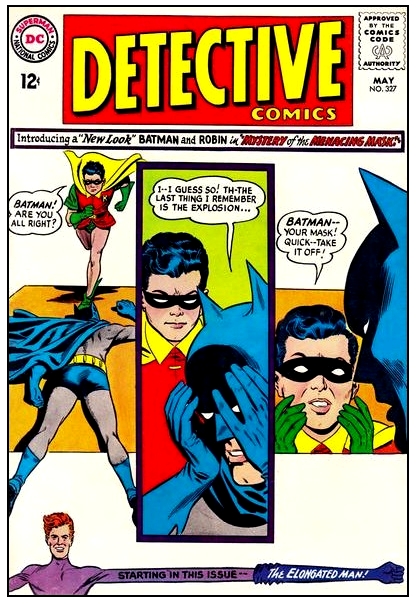 After listening to the bonus features I began to learn that to the actors, writers and producers, the comic was just a starting point. From the beginning they wanted their own Batman to be a humorous, campy, unrealistic feature. This was not my Batman. William Dozier was not a comic book reader. And this Batman would begin the movie and TV tradition of taking the costume, powers and location and forgetting about the stories and characterization of comic book characters. Sometimes it worked, such as in the movie Dick Tracy, but mostly it fell on its face (The Spider-Man TV show, the last three Batman movies of the 1990s, Supergirl, and so many others.) And while they say this was a homage to the original character, it was really a homage to the era of the serials.
Kevin Smith is a bright and interesting guy, but he made a mistake in discussing Batman with Adam West .Kevin said that the silliness on screen emulated the silliness that was then in the Batman comics. Kevin was wrong, Batman, by 1966, had left that decade old silliness behind. Here West says he did not want Batman to be an Avenger, but a "do gooder" who did not believe in violence. Boy, was this not my Batman. And actually if he hated violence, this was not West's Batman either.
What was missing from Batman on the TV show was also missing from many DC personalities of the 1960s: characterization. This Batman was unreal from the get go. There was no origin, no background; no understanding of what drove this character, just a sentence or two in the first episode. And the same was true of the villains. We never even learned who their tailors were. There were also no supporting characters to help you understand who Bruce Wayne was, he was only Batman.
I think of another show, perhaps the most similar to Batman. No, not Superman, but Zorro with Guy Williams. Zorro was a decade eariler but had a similar costume and similar wealth. Here, we meet the people around Don Diego, learn about his life, his family, his friends, his romances, his goals. The show was often more about his secret identity than about Zorro. And one other thing: we learn about the motivations of the "bad guys" and their history. The villains on Batman also have no history. Especially on episodic TV we need to either understand or relate to the characters.
TV in 1966 BC (Before Cable) had only three networks and that early time slot had to be for family viewing. It was hard to win your timeslot and, in the beginning and Batman did. But it was a one-joke comedy, made a big splash but immediately started to take on water and sink. Originally planned to be an hour show, they broke it up into two parts. In the era before remotes, people tended to turn to one station for the night so ABC got a doubleheader with Batman. After fifty two-part episodes it became a one nighter and Batgirl was added. When it ended after just over 2 years, few people cared. If you look at this as a one hour show for the first two years, it had a total of 70 episodes, not a long run by any means.
The joke had run out. That was even the observation of the producer William Dozier in the best part of this set, the bonus features. There are revealing moments of honesty here. In looking back at Batman, in a 30 minute feature, they spend the last quarter really examining why it went off the air. Another feature has the cast of Arrow discussing their take on Batman. This was a bit silly because most of them were too young to have seen it.
Adam West is in many of the features the first being his half hour bio. It is very interesting, and then even a bit sad when he discusses his battle with alcoholism. Another feature has him sitting down with Kevin Smith, Jim Lee and Phil Morris discussing his life and, of course, Batman. For one hour, West sits with his original Batman script of the pilot episode and discusses it. We even see the screen test of Burt Ward, with Ward and West both wearing terrible costumes. Lyle Waggoner's screen test is also shown. In a half hour feature on Batman Memorabilia West visits a collector who had an enormous amount of stuff, yet, none of them the actual Batman comics. But West has a lot of fun going through them and mentions which items he still has.
And there are more features about the settings, costumes and casting. All really good. Honest!
From World War II to the early 1960s, "Standard Definition" TV was almost all black and white. The big push came when RCA, then owner of NBC, began to sell color TV's. While NBC's Peacock appeared for the first time in 1956 but it took into the mid 1960s for color to become common on TV with programs including Walt Disney's Wonderful World of Color (1961-8) and Bonanza. Color broadcasting was not perfected until the 1970s. This meant that you and to manually tune and adjust the color every time you changed the channel, usually without a remote control. That's why it was so important to "capture" a viewer at the beginning of the evening. Every station broadcast a bit different so the picture often looked different when you changed the channels. (While the shows were different the commercials weren't, so you could see green mashed potatoes.)
35mm film has always been "HD" even in the 1940s. HD simply refers to the sharpness of the original not whether or not it is in color, widescreen or in surround sound. Some networks, such as CBS, put everything, including filmed shows, on video tape for ease of broadcast. So when shows went into syndication, the producers used the tape version or cheaper 16 mm prints to save money. So to get the best images gor Blu Ray, studios MUST go back to the original negatives or prints, if they still exist.. Sadly shows shot on Standard Definition tape can never be truly High Def. Batman was broadcast in color, even "extreme" color that was addictive and really added to the show. It was almost difficult to watch in black and white after you had seen even one episode in color. I only saw glimpses of Batman in color during its original broadcast because we had a black and white TV. Later, in reruns, I saw the faded color version of the show. So now, I prepared myself for the HD version, fully restored with those exaggerated colors of the 1960s. This new Blu-ray looks spectacular in color and the detail is also fantastic. The picture and the photography here are just outstanding. Thje sound is mono, but still good for that era and is in DTS MA.
Back then, as a comic book fan, I was disappointed in the show; I was concerned that all the adults around me would think that this is what comics were all about, shallow, underdeveloped people running around in silly looking costumes fight each other and making bad jokes and silly puns. That was not the Spider-Man, Fantastic Four or Daredevil I was reading. In fact, it was not the Batman I was reading either.
As a kid, I liked the anticipation before the premiere of the show, the excitement of the first night and the first 15 minutes. But there was less and less suspense, more and more formula, but there was great fun seeing The Penguin, Riddler and many others. But how come they never served out their jail terms and returned so often. Even today two things stand out: The music and the guest stars. Simply I loved the Neal Hefti and Nelson Riddle take developing wonder themes for the villains and heroes. Julie Newmar was my favorite, but the guest stars from Frank Gorshin (Riddler) to Burgess Meredith (Penguin) and Vincent Price were just plain fun to see.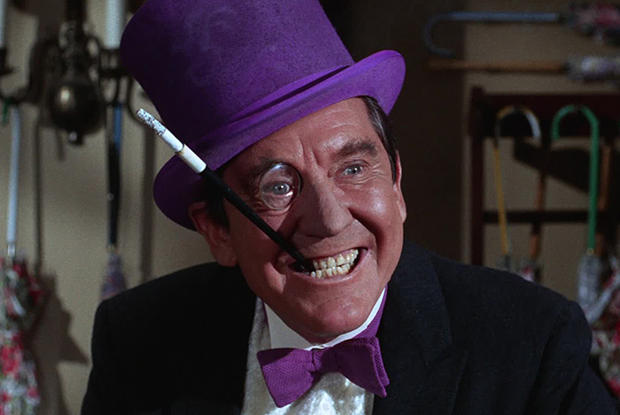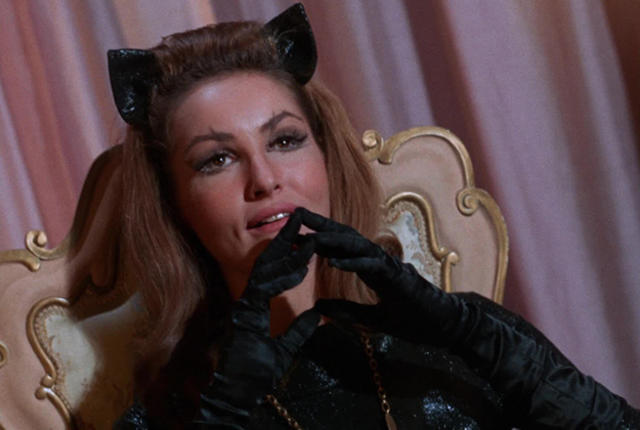 As an adult, some of my feelings haven't changed and certainly the new "Batmen" of the movies shows the real potential for this character. You cannot binge watch these episodes, one after another because they are all the same story, all the same formula and all the same jokes. Adam West as Batman goes from funny to silly to wearing a bathing suit in his Batman Costume as he goes into a boxing ring, complete with his cape. (Even Zorro took off his cape!)
I know some people will love this, but I liked the bonus features, the music and the first episodes of The Penguin, Riddler and especially Catwoman. After that, I was done.
The set comes with a Matchbox Batmobile, an episode guide, a box set of cards and a very shallow Adam West scrapbook. Each season is in their own box.
Batman 1966 Blu-ray