Brian Cronin, Was Superman a Spy? And Other Comic Book Legends Revealed (Plume, 2009, Amazon $13.54 paperback/$11.99 Kindle)
Review
This is a 250 page paperback book that I bought on Amazon, used, for $1.60. It was fun. Now this is light reading, it isn't, nor does it claim to be, the inside history of comics. It's a lighthearted and informative look into the popular culture that comics have added to. Now, a die-hard comic book student and fan of twenty years may not find this to be all new material, but most people interested in comics would find this a delightful read while on the subway, on the beach or just a quiet afternoon at home.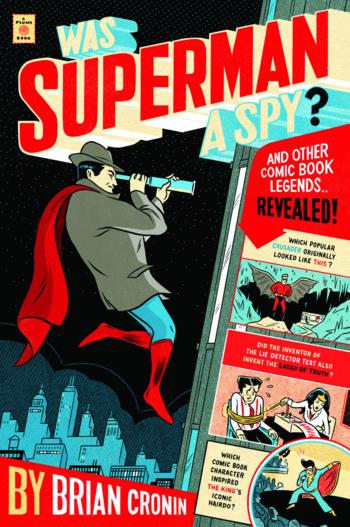 Was Superman a Spy?: And Other Comic Book Legends Revealed
Brian Cronin, who writes for Comic Book Resources, put together this delightful little book containing great and little stories about our comic book legends, Superman, The Hulk, Steve Ditko and so many others. I am also a bit apprehensive when people say that will be revealing "facts" about comic books because having researched them as much as I have I most often doubt the writer. But not only did Brian do his research, and presets it clearly, he substitutes, correctly, his common sense over myth and rumor. Let me give you a few examples.
For years, I have heard that when Martin Goodman discovered that the JLA was selling well he asked Stan Lee to do a superhero comic. That makes sense. But why the editors of DC, Donenfeld and Liebowitz would, be telling their competitor their secrets. Well, Brain intelligently writes, "However, both Donenfeld and Liebowitz denied ever playing golf with Goodman, let alone playing golf and bragging about the sales of Justice League of America. Film producer Michael Uslan has put forth the alternate theory—courtesy of DC's production manager at the time, Sol Harrison—that it was actually someone from Independent News, the distributor for both Marvel and DC's comics at the time, who told Goodman. Independent News would have had the sales figures for both companies, and Paul Sampliner, the head of Independent News, did know Goodman. That theory makes a good deal more sense."
Well, this is totally logical, the person who would most gain by a more successful Marvel told the publisher what was selling.
I am always disappointed when an author, such as Les Daniels tells us that Steve Ditko left Marvel after arguing with Stan Lee over who the Green Goblin was. This is nonsense, and Ditko has even written about it. He says that only he knows the reasons that he left Marvel and that he wanted to tell Stan Lee by lee would not listen. In Robin Snyder's brilliant fan magazine, The Comics, Ditko has written articles that throws the Goblin theory out the window. Mr. Ditko though has repeatedly written about proper crediting and his discomfort with the Marvel Method. Brian doesn't even address the Goblin myth and outlines a series of issues and events that probably motivated Mr. D. It is thoughtful and on target.
There is much on the DC side, but, you know, Superman wasn't a spy, but his radio show in the 1940s predicted the atom bomb.
Another interesting point was who is responsible for the creation of the Joker, Bob Kane or Jerry Robinson, Both had made interesting points about their own respective causes, but it is Bill Finger who feels he remembers best what happened. This, however, is not a small, but important issue. You see, when people work together and produce product, in a collaborative effort, who exactly did what always gets mucked up. If I have ten ideas for a project and you have ten ideas for the same project if you put is in a room we will come up with thirty, not twenty ideas.
Brian doesn't just stick to the actual comic books; he gets into the TV shows, such as the Incredible Hulk. I never knew why they had changed his name from Bruce to David. I learned that Bruce Banner, like Peter Parker and Lois Lane was to comic book for the producer, so he used his son's name.
There are just a lot of fun tidbits, nothing heavy, and black and white scans. My favorite is in the Fantastic Four section where they show Reed (and in another Sue) with a mask that was removed.