With Halloween approaching, and Dynamite Entertainment releasing its version of Evil Ernie, it seemed a good time to write a quick review of where it began, Chaos! Comics.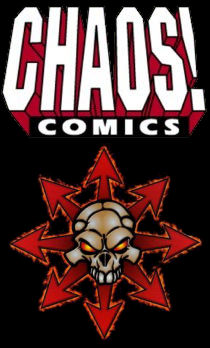 Quick Overview of Chaos! Comics: Brian Pullido's Chaos! Comics were the vamped-up progeny of the now defunct Eternity Comics. Chaos! operated from 1994 until 2002, publishing mostly in the horror comic genre. Chaos! Featured such anti-heroes as; Evil Ernie; Lady Death; Purgatori; Jade and Satan himself. In opposition there were main characters who were essentially good, but with bad attitudes, such as; Chastity; Bad Kitty; Bedlam and Vandala. Chaos! Also released several stand alone mini-series based on mayhem and destruction, such as The Pendulum a 12-issue miniseries of comic books based upon the Dark Carnival universe, a mythology detailed in the music of the Insane Clown Posse.
The horror designation is a bit of a stretch, it would be more appropriate perhaps, to call the lion share of the titles villain-based comics. Unlike the majority of mainstream comics, where the good guy is the main character, Chaos! Comics featured the villain—and it worked. While Chaos! Never displaced the mainstream publishers it did capture a cult-like loyal following who still purchase and re-read back-issues 10 years after the company went defunct.
The most popular Chaos! Characters were Evil Ernie, Lady Death and Purgatori, all of whom were villains out to destroy all life or enslave all life. Marvel and DC have their "bad Boys" and their "Bad Girls" edgy angry heroes with bad attitudes…who at the core are essentially good. This is not the case with Chaos!. Evil Ernie was not essentially good, oh no my friend, Evil Ernie was out to kill every living thing on planet earth.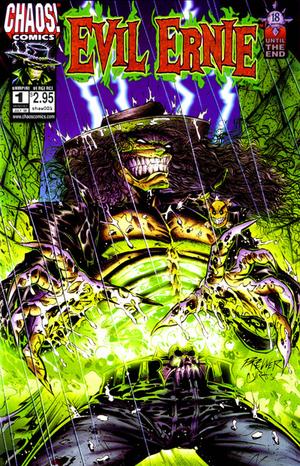 Youth Gone Wild: Reviewing all the titles would be too exhaustive, so let's start with the series where all newcomers to Chaos! should start: Youth Gone Wild. Youth Gone Wild is a reprint of the origin story from Eternity comics (1991), originally in black and white, re-released under Chaos! in color and as a TPB.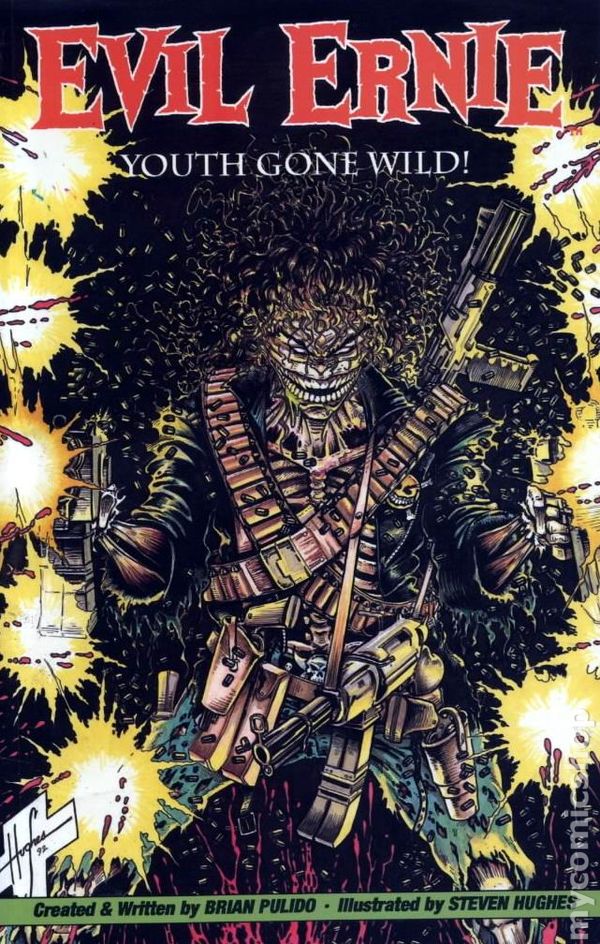 Ernest Fairchild is a good little boy, but as troubles heat up at home, he becomes more reclusive, exhibits some bad behavior. Ernest's father became a despised citizen, having laid off many locals at the lumber yard. Ernest's father began drinking and behaving badly, upsetting Ernest very deeply when he killed Ernest's pet rat. Other children, unhappy that Ernest's father had laid off so many local parents, became cruel towards Ernest as well.
In resentment Ernest drew a picture of his drunken father crashing his car into a tree. As Ernest was drawing this picture, his mother who was picking up his father from a local bar, crashed into a tree, she sustained several injuries and lost the child she was carrying inside of her. As a result, Ernest's mother also became more cruel and hostile towards Ernie, especially upon discovering the drawing.
Ernest's parents have him treated by a psychiatrist, Dr. Leonard Price, but he only gets worse. Mr. Leonard was using his new experimental dream-probe therapy, but was not aware that Ernest was being abused. Ernest pretends to be cured, for in his dreams he begins seeing a pale woman from another plane of existence, Lady Death. She appears to him from the Endless Graveyard, a realm within Hell.
Lady Death soothes him, makes him feel good…and plays on his teen hormones, offering her love to him, if only he would do her one small favor. That small favor…kill all life on earth. For Lady Death is in Hell, an unwilling subordinate to Satan. Satan has placed a curse on her, that she can never leave Hell until all life on earth is eradicated. Ernest believes that they can be together, if he kills all life. She is offering the womanly love and soothing his troubled teenaged soul so desperately craves.
The emotions and teen hormones of a male youth being what they are…the supposedly cured Ernest goes on a gory romp, hacking his family to pieces, and then going after his neighbors and teachers. He is apprehended and locked in a high security psycho-ward/prison. His psychiatrist has given up hope for Ernest, and believes life in prison or even execution are the way to go, for Ernest shows no sign of remorse, and has continually attacked his guards at every opportunity.
Neurotechnologist, Dr. Mary Young, leaps at the opportunity to try new experimental procedures on the murderous inmate, Ernie. Dr. Price does his best to oppose to oppose and thwart Dr. Young, believing Ernest is too dangerous and undeserving of a cure. With the backing of big investors, Dr. Young gets her way, and Ernest is strapped down for some more therapy.
As the machine begins to whir, its power rises out of control, and Lady Death through her psychic link from another world, bonds with Ernie's soul as it begins to separate from his body. The prison/medical staff believe Ernest is dead, his body a smoldering husk. A nurse, places a yellow smiley button on Ernest's smoking corpse. The smile on the button twists into an evil smile (we later learn that the soul of his dead pet rat now inhabits the button). Lady Death's power reanimates Ernest's charred corpse, and he rises. The now Undead Evil Ernie kills (quite graphically) everyone in the building. Dr. Price and Dr. Young narrowly escape with their lives.
Those killed by Ernie, are re-animated as zombies, or as he calls them, Dead Onez. Keeping with proper-zombie tradition, the zombies are only killed by head-trauma, dissolving in acid, or incineration. The sudden wave of zombification spreads like wild fire. Dr.s Young and Price form an uneasy alliance in the battle against Ernie and the ever growing tide of undead sweeping across the region. Lady Death is pleased, it's a good start, yet there is so much work to do. Things would go much quicker, be much more thorough, if Evil Ernie could get his hands on a nuclear arsenal, to quickly and thoroughly assure the death of all life on earth.
Continuing You Chaos! Readings: Evil Ernie, Youth Gone Wild is the essential Origin Story for anyone looking to delve into chaos comics. These early Evil Ernie stories are the closest thing to horror-genre that Chaos! produced. While many of the stories involve supernatural powers, fears and violence, they are still a touch too comic-bookie to be considered horror in the true sense. The subsequent story sets of Evil Ernie after this revolve around efforts to stop him, efforts to bring Lady Death out of Hell, and his ultimate goal of Nuclear Megadeath.
Lady Death has a few mini-series which explain her origin and her numerous centuries as a death goddess in Hell. Her relationship with Satan, her relationship with Satan's ex-girlfriend (Purgatori), her relationship with Cremator (Satan's blacksmith), and her relation to other planes of existence, gods, mythos, and other supernatural forces.
Ultimately the stories of Lady Death take on more importance than those of Evil Ernie as the Chaos! universe progresses. I hate to give away too much, but essentially everything comes to a conclusion. After the conclusion, Chaos! (once again being ahead of the major publishers) does a "reboot", but the company hits economic problems and goes defunct by 2002. Chaos tried to gasp a few extra breaths by doing cross-overs with Harris, Image, Devil's Due…but to no avail.
Aftermath: Surviving the demise of Chaos, Lady Death was published by CrossGen. When CrossGen died, Lady Death was re-invented under Avatar, and eventually moved to an Avatar subsidiary, Boundless Comics. Lady Death is alive (so to speak) and well in her Boundless Comics series now at issue 21. She has a loyal cult following to this day.
Evil Ernie, and essentially all the other Chaos! characters (sans Lady Death) now inhabit the vaults at Dynamite Entertainment. Purgatori is rumored to be making an appearance in the Prophecy mini-series, and Evil Ernie #1 has just been released by Dynamite this October.
Collecting:
Pros – Chaos! Comics produced a very collectible comic universe, and its cult-like following ate it up. The universe is small enough, that a collector can aspire to complete the collection in his/her own lifetime. I collect Avengers and Fantastic Four, and I know that unless I become a millionaire I have no hope of ever completing those collections in my lifetime. With Chaos! I get a great read, original stories, awesome art and a realistic chance at completing a collection.
Most Chaos titles still auction and retail at or above their original cover prices. No modern era comics will ever carry the gravitas of a Spider-Man #1, but for comics which are barely 10 years old, a collector can feel satisfied that he will at least maintain cover price and some extra, if you are into the auction-price thing. Chaos, was also ahead of its time in having special edition variants, special order-only variants, ComiCon only variants etc… Currently there are 10,000 cover-variants of nearly every comic produced, but at the time, variants were still a big deal.
Perhaps to their ultimate demise Chaos! went overboard in getting awesome artists to put together their titles: Julie Bell, Joe Kusko, Brian LeBlanc, Steven Hughes, Jason Jensen, Justiniano, Ivan Reis, Al Rio, Jack Jadsen, Mike Deodato, and many more who I am not recalling at the moment. At the time, Chaos! a little independent publisher, was producing one of the slickest most visually enjoyable comics.
Cons – Variants and one-shots are a double-edged sword. Sometimes feeling "obligated" to buy a variant or one-shot issue, or cross-over is a strain on the hobby-budget. Variants and one-shots are also more tedious in trying to locate and in keeping track of your inventory. However, compared to the current crop of comics, the Chaos! one-shots, variants and cross-overs are not so daunting.
After falling in love with Chaos (particularly Lady Death, Chastity and Purgatori), I often found myself exasperated by the mini-series format of Chaos. Instead of having a Defenders 1-152 format, they were mini-series based. So there is Lady Death 1-3; Lady Death Heaven and Hell 1-4; Lady Death Alive 1-4; Lady Death Goddess Returns 1-2, etc… For one collecting back-issues this can be aggravating, especially if you don't have to remember which mini-series falls where chronologically. The chronology is important, as all the titles build from 1994 to 2000 to the big final conclusion. If the stories are not read in order, they don't stand up very well on a comic by comic basis.
For reading purposes I would suggest starting with the Evil Ernie Youth Gone Wild TPB, and then get yourself a Chaos! timeline, and follow that.
Another Con, is the content and art. Meaning, its graphically violent and often frightening and sexualized. Not at all a Con for an adult seeking edgy artwork, but if you happen to have youngsters in the house, a comic revolving around a parent-murdering zombie who is doing it all to have sex with an albino Hell goddess, who is using her alluring sensuality in order to inflame the young man to even greater violence….lol, well, its not kid-friendly. Its not shocking at all compared to some of the stuff that's out there now, but in its time, it was one of the raunchier more violent and scary publishers.
Recommendation: All in all I would recommend Chaos! Comics to adult comic book readers. It offers a universe where every title is linked and moving towards a final moment. Chaos! offers great artwork, unsuspected plot twists, and truly likeable villains. Evil Ernie, a young zombie who wants to destroy all life on earth to be with lady Death. Lady Death a Hell goddess who wants Ernie to Nuke the earth. Purgatori, a descendant of a Fallen Angel turned vampire, who wants to rule/bloodsuck the universe. These are not good guys with bad attitudes (ala Wolverine) these are murderers, selfish unrepentant murderers. In a twisted way, it's a refreshing departure from the standard superhero.
They do have a few characters such as Chastity (a vampire hired by monsters to assassinate other monsters) and Bad Kitty (a monster-hunting ex-cop, on the run from the cops) who aren't necessarily evil, but they are still quite violent and murderous when they get riled up.
It's easier to collect than the mainstream comics, unless you are a Rockefeller you'll never be able to complete and Avengers or Superman collection. It had some of the best art and production quality of its era. The cover art is eye candy. The stories are refreshingly different from the mainstream. And for the value-minded collector, the comics have tended to retain or even gain value in the short 10yrs since their last run. And lastly there is that punk/cult satisfaction of belonging to a small club. You know how its great when you like a band that the mainstream doesn't know about, you were rooting for this or that team long before the national media bandwagon… that little pleasure we get from feeling different, for being involved in something non-mainstream, and not tainted/watered down by mainstream thought. There is that. The Chaos! aficionados are a small yet hardcore group.