I was not at all surprised to discover that Marvel's Agent of S.H.I.E.L.D. fell 30% in the ratings. I am disappointed that I didn't post this last week and therefore would look very smart for predicting this. They made so many mistakes in their presentation that I knew this would not remain a hit. And when Samuel L. Jackson appeared in the second episode, I was crushed, I knew that unless thing was changed, the show would continue to tumble in the ratings.
First, they overpromoted this and nothing could live up to the hype. It would have been good promotion for a movie, a one shot, where you could sit down, once, and watch and get good ratings, but no weekly TV show could live up to this. It's not the Avengers movie, nor can it be.
But the biggest mistake is the general format. Agent Coulson, played by Mark Gregg, heads an unknown Government agency that tracks down criminals. He leads a young cast who fight among themselves, but we know will ban together, when necessary and crack the case. Each young member is quirky in their own way. They use over the top, modern technology that certainly is imaginative and impressive.
You see, what they gave us was a "remake" of the most successful show on TV and S.H.I.E.L.D.'s competition: NCIS…with a little bit of X-Files thrown in.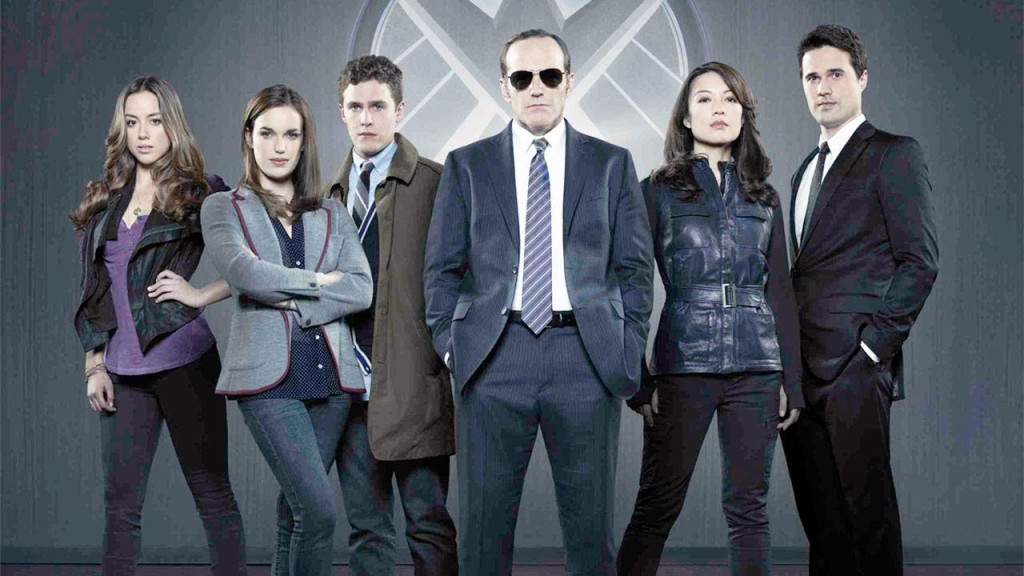 On NCIS, TV's highest rated show, it's Mark Harmon who leads a group of younger agents who are very much like the S.H.I.E.L.D. team. You have the beautiful woman who can beat people up (Cote de Pablo); you have the young computer genius that uses "modern" technology. He uses it in a way no one understands but is able to get instant results and he never really tells us how (Sean Murray). Pauley Perrette's Abby would fit perfectly into S.H.I.E.L.D. She plays a strange, but very lovable, Goth-influenced scientist who miraculously uses technology to track down all sorts of things that solve cases. NCIS uses familiar tech in an unusual ways, S.H.I.E.L.D. uses unfamiliar tech in usual ways.
Of course there is David McCallum, my favorite Man from U.N.C.L.E. Ironically, this is the series that S.H.I.E.L.D., the original comic book, was based on. Here, McCallum plays a doctor and he too has a young assistant.
Oh, while NCIS is not a "secret" crime fighting organization, but most people never heard of them until the TV show went on the air. Of course they are also known by their initials.
To get the "younger" TV viewers, the audience that advertisers pay the most to get, S.H.I.E.L.D. seemed to clone most of the NCIS format and just put in ridiculously younger people. Sean Murray was about 25 years old when he "joined" NCIS as a junior agent, fresh out of college and with a complete high-tech education. There was no need for a leap of faith by the viewer that he knew technology, but needed to learn how to be an agent and that was part of the storytelling.
The new S.H.I.E.L.D. agents are not old enough to be experienced nor educated enough to handle their assignments. There is a tremendous leap of faith here. On NCIS there is a nice mixture, with the older agents teaching the younger ones. On S.H.I.E.L.D., Coulson, for some reason, will be the teacher of an entire group, not just a few individuals. Yet they will be relied upon to solve planet threatening problems.
It also appears that on S.H.I.E.L.D. there is going to be long drawn out story arcs, not so much individual, standalone episodes. This means if you don't hook viewers in early they are not going to be on the train for a long ride, and 1/3 of them got off last week. As with the X-Factor part, of course, many of the threats will be of a sci-fi nature and their plot points will not be fully resolved.
So why did they put a clone on against the original?
I don't know. But if the ratings continue to drop, and they will, there will be some changes made to cast, the stories and the scheduling. And they better do it quick.
Originally, Nick Fury was head of S.H.I.E.L.D., now, Agent Coulson was in charge. At the conclusion of the second episode, Coulson argues with his superior, Nick Fury, and he is threatened. This is so is common in every cop show. So it took only two episodes for the storyline and "banter" to fall into traditional TV formula, just one that uses high-tech.
Believe or not the best "avenue" for S.H.I.E.L.D. would have been more in the vein of Star Trek, or Battlestar Galactica, than NCIS. Both of those shows had their "daily" lives take place on a starship, S.H.I.E.L.D. would have taken placed on the Helicarrier, which would also be more in line with the comic. There would have been nothing like in on TV. Also, the stories would have been a bit more science fiction, which would have been closer to the movies.
On one hand that may have been too expensive, on the other hand the Helicarrier and such are already built or created by computer and would not have to have been done from scratch.
Variety writes:
ABC's "Marvel's Agents of S.H.I.E.L.D." took a tumble Tuesday in its second week, losing about a third of its young-adult audience and finishing behind CBS' tough "NCIS" in key demos.

Looking at the numbers, "NCIS" (3.4 rating/11 share in adults 18-49, 19.3 million viewers overall) retained nearly all of its season premiere audience as auds were glued to the episode in which Cote de Pablo's character exited. In the same hour, "Marvel's Agents of S.H.I.E.L.D." (3.1/10 in 18-49, 8.4 million viewers overall) was down a little more than 30% from its premiere and placed third in its tough hour in 18-49 and 25-54.