The Comics Journal, 1975: Would you ever do a book all by yourself?

KIRBY: Not necessarily, no. I don't feel that I should do everything myself.

TCJ: I mean just once — do the pencils, inks, story, everything?

KIRBY: Yeah, sure, you know, everybody has that feeling, that "boy, if they could let me by myself: " Nobody does anything by themselves; nobody ever does. When a guy comes out and makes a statement "I did this," you can be sure 50 people helped him. It's true. The only time you do something by yourself is when you're in trouble.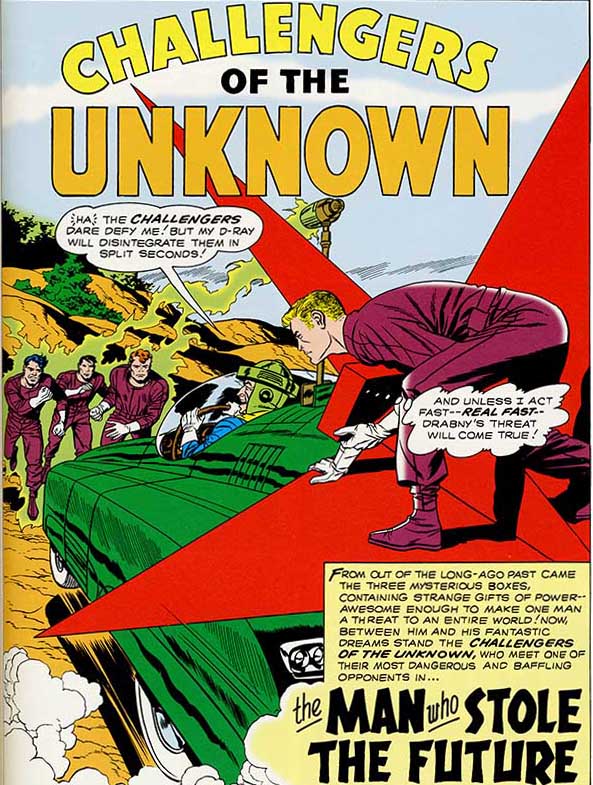 There are places I remember
All my life though some have changed
Some forever, not for better
Some have gone and some remain
When I came back to comic books, after a long absence, (why did I leave?–see below) I was shocked to discover that virtual armed camps had been sent up amongst people who considered themselves Kirby supporters.
In fact, I was declared UnKirby.
I felt I was one of Kirby's biggest fans. I had collected virtually all of his original comics from the 1960s and 1970s. Scared to touch the originals, I have the reprints of them and reprints of the reprints. I have tried, the best I could, to get Kirby reprints from the 1940s and 1950s. My book is dedicated to him, Steve Ditko, and Stan Lee and is a "love letter" to the Marvel Age of Comics.
So I was taken back, in 2002, when I meet a few intense people. I then heard for the first time that some Kirby individuals hated Stan Lee. One said he helped get Stan Lee fired from Marvel. Another said that Stan Lee should give up half his pension and give it to the Kirby family. "Why?" I asked. This is their quote: "For what he (Stan) did to Kirby."
A few years later, I joined a comic list on Yahoo. I had posted that Steve Ditko help define the Hulk for me by adding the anger management issues, which made the Hulk the iconic figure he is today. And, I said, Ditko also improved on the mystic super hero, with Dr. Strange being a step up from the failed Dr. Droom. I was declared UnKirby. And I got hell.
I discovered that some Kirby individuals judged you on a scale from 1 to 10. Unfortunately, you were either a 1 or a 10, there was no 2-9, nothing was in the middle. And if you liked Kirby, you could not like Lee. If you like Lee even a little bit, you were a "1."
And while Kirby deserved credit for everything he did, well, since he did everything, Stan had to be diminished and Heck, Ayers, Lieber and Ditko had to be ignored. So, for liking what Ditko did, and appreciating Heck and Ayers, I was UnKirby.
All these places have their moments
With lovers and friends I still can recall
Some are dead and some are living
In my life I've loved them all
Of course, all hell broke loose when it came to The New Gods. I felt that Kirby needed a collaborator and a writer. When Kirby emulated the style and the era of Joe Simon, where characters just talked about the plot and the action, Kirby was successful. In fact, when he did The Losers in the 1970s, I thought that was some of his best work. However, in the Fourth World, I felt Kirby tried to emulate the modern style, initiated by Stan Lee, where characterizations and relationships dominated the writing. Then, I found his dialogue awkward and stilted (© Yancy Street Productions). I was then, and till this day, attacked personally for this opinion, going way beyond being declared UnKirby. Simon and Lee kept Kirby focused; he seemed to wander on his own. (As an example, see those first Black Panther comics he did. Although he was the only one to get the BP right.)
Norris Burroughs, a blogger on at the Kirby Museum, feels that Kirby will be considered a great writer in a few hundred years. Well, I can't stay up that late. But Norris disagrees with me all the time, and it is never personal, although sometimes exhausting. That's fine and we have remained friends. I have often responded to bloggers who discuss the issues and aren't impolite, although many have strongly disagreed with me.
When the Kirby estate lost their lawsuit, which attempted to claim the copyright to 25 Marvel comics (and the characters they contained), a new movement popped up. They considered Kirby to be the "auteur" the sole creator of the stories and characters at Marvel. That statement, again, negates all the work of so many others, who I respect. I also found it a great irony that that those who are speaking out because they felt Kirby hasn't gotten enough credit easily removed credit from so many other people. And as you can see by the opening quote, Kirby wouldn't agree with them either. Eventually Kirby left Marvel because he wanted control, not because he had it. But, again, I was declared UnKirby.
When I wrote about the Kirby lawsuit, I wasn't taking sides. This was not about fairness, as the judge said, but about the law. I didn't see any evidence that showed that Kirby ever had the original copyright, the original ownership, to these comics and therefore would not be able to regain them. Again, people dismissed the work of the editor, publisher, and writers stating Kirby did it alone. Again, I was UnKirby.
There are those who want to distribute credit, percentages, of the Marvel Age. One person gave Lee and Kirby a 50/50 split. This is silly. Doesn't Martin Goodman, who told Lee to return to superheroes get some credit? How about Ditko? Spider-Man was their most popular character. Hey, the most popular X-Men is Wolverine, don't Thomas and Romita get credit? Or Lieber for his work on Thor and Iron Man? Or Heck? The question is not, "How do you retroactively dispense credit," but "Why would you have to?"
Though I know I'll never lose affection
For people and things that went before
I know I'll often stop and think about them
In my life I've loved them all
Kirby stayed with Marvel for over a decade, longer than he stayed anywhere else. Yet today, the Kirby supporters want to act as his agent, lawyer, and mother. Some Kirby individuals are even promoting the concept that the Marvel Age doesn't count, that super-heroes, what made Kirby famous, was not his best work. Yesterday, of course they wanted to give Kirby full credit for it. The Fourth World, to them was superhero-less, it was a new genre. Well, it begins with, "The old gods have died but the new ones will still be running around in their underwear."
This was the preface to a chapter in my book that I wrote almost 40 years ago and slightly edited a few years ago. It tells how I feel about the King.
Swan's Way
"And so it is with our own past. It is a labour in vain to attempt to recapture it: all the efforts of our intellect must prove futile. The past is hidden somewhere outside the realm, beyond the reach of intellect, in some material object (in the sensation which that material object will give us) which we do not suspect. And as for that object, it depends on chance whether we come upon it or not before we ourselves must die."–Marcel Proust
In the 1960s, there were two ways to go for serious comics: DC, whose comics were geared towards young people, with simple stories, characters that didn't develop, drawn by artists like Curt Swan whose characters and stories were simple, posed and static, showing no motion or emotion and he became the "house style" of the time. Joe Simon would write in his autobiography, "The editors at DC…wanted everything to look 'their way'. . .They had what we called very tight technique…You could have twenty artists do a character or a series, and it would all look as if it had been drawn by the same artist."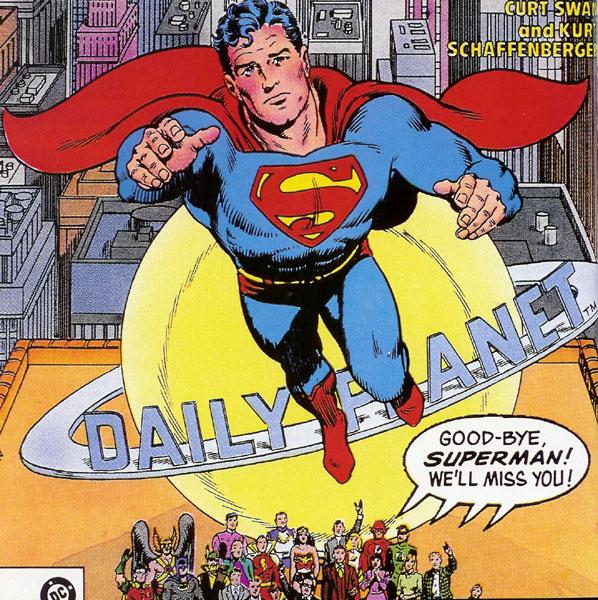 Then there was Marvel, whose characters and stories were dynamic and complex, like nothing a young reader ever saw before, inspired, mostly, by the mind and artistry of Jack Kirby.
After reading Kirby, I could no longer go down Swan's way.
Kirby's impact on comics was so great that any essay on him must seem incomplete. At his best he was just outstanding, innovative, incredibly inventive and prolific and such an important foundation of not just the Marvel Universe, but for all comics and their different genres. At his "worst," Jack Kirby was still always one of the best: a great storyteller and a fine artist, who still enchanted his readers, new or old, like a fine wine, you could never appreciate Kirby unless you experience his work firsthand over time.
Kurtzberg's Way
Kirby created the first comic series that I thought was great and "hooked" me: The Challengers of The Unknown. Kirby had a dynamic way of drawing, putting action, excitement and emotion in each panel, like no one before or since. He'd invent characters, reinvent characters and develop stories and themes always portraying something new. I would always be disappointed when another artist took over a strip that he had started. You see, it was Kirby that showed me that comic books could be art. Kirby gave comics a sense of wonder like no else ever did. Or could.
Jack Kirby: "I think the greatest contribution I made in comics is the fact that I, I helped to build up readership. I think people have accepted me. They accepted my stories because I think they recognize their own values in those stories. I don't think the average reader believes in fairy tales and I've never given anybody fairy tales. Yes; I've given fictionalized drama but this, this drama is enacted by real people." (TVO telecast, 1993)
Kirby's work also introduced me to the realization of just how important inkers and dialogue writers were. Kirby's work just grew greater as inkers like Joe Sinnott came aboard. His work seemed to jump off the page. Inkers, like Syd Shores on Captain America, gave the character a distinctive retro 1940s look. On Thor, Vince Colletta helped create a different look, an epic one, but I know now he often left a lot of artwork out. Colletta's inking added a different atmosphere than Joe Sinnott. And Sinnott's work on The Fantastic Four has never been equaled. As great a storyteller as he was, Kirby was just not a great dialogue writer. Stan Lee was able to capture what Kirby put on the page and translate that to his character's dialogue, even better than Kirby could. Kirby put so much down on the page, he needed someone to simplify and explain things so his concepts did not collide and get confusing. Lee's dialogue also added depth to Kirby's "Kharacters."
Have you ever seen the face of a child entering a stadium and seeing a major league baseball field for the first time? It's a glow you cannot forget. For many, it is a similar experience when they see their first Kirby book. I was not a big fan of Kirby's Fourth World at DC, or The Eternals, when he returned to Marvel. Nevertheless, for those who were young enough to be seeing Kirby for the first time, these projects were gems that will last in their memories forever. Don't tell them this wasn't some of Kirby's best work. The biggest problem is that the Fourth World was a work in progress. Kirby had set down the foundation for that series. At Marvel he might have been given time the opportunity to develop it. At DC, they just pulled the plug, not giving him the time. At DC also redrew Kirby's faces, giving them that Swan "house look," making me wonder why they hired him to begin with, especially for Jimmy Olsen. Many may not have missed Stan Lee as the writer, but given the patience shown at Marvel, maybe he needed Stan Lee as the editor.
I became selfish. I expected every issue of The Fantastic Four and Thor to be better than the one before it because, for so long, it was. I kept comparing Jack Kirby to Jack Kirby. Sometimes Jack Kirby just did wonderful work but I was disappointed when it wasn't at the level of the Silver Surfer, Black Panther, Inhumans, Him, Ego, etc. How could it be? How could you keep doing that? The Marvel Age produced 25 comics (or series) based on his characters. I compared his Fourth World not to the beginnings of The Fantastic Four or Thor. But to the best parts in those series, to his best work. This was just not fair.
By 1975, Jack Kirby had outgrown comics. The Fourth World and The Eternals had a fine beginning and interesting middle but Kirby was searching for their end. He was searching for the Graphic Novel. A large book with a beginning, middle and a conclusion, but the comics industry was not there yet. Maybe it's still not.

I stopped reading comics when Kirby stopped creating them. I am always saddened, disappointed knowing that this industry could have celebrated him and made it easier for him to have continued in it. Marvel became so successful and was so caught up in its own remembrances of things past that it could not go down Kirby's way. I was always ready.
My biggest problem with Jack Kirby is that I miss him so much. As Proust taught us, things exist only in the time and space that they were created. We change, but our perspective is that they change. To this day, I cannot let go of the artist I knew. For a long time I tried going back, by re-reading his stories, trying to recapture a wondrous place I once knew. His work was so powerful that there are times when I almost succeeded. This was a marvelous time of discovery when the real world melted and I was absorbed into another universe. I would try to put away the comic that was still in my hands and to turn out the light. But the images of my comic would not separate themselves from me, leaving me no choice on whether or not I would or could part with it.
For me the Marvel Age ends when Jack "The King" Kirby leaves Captain America. With Lee and Ditko also gone, I no longer had the desire to read comic books. This devotion had not begun with The Fantastic Four but with Kirby's Challengers of the Unknown. Kirby was there at my beginning and at my Journey's End.
"And I begin again to ask myself what it could have been, this unremembered state which brought with it no logical proof of its existence, but only the sense that it was happy, that it was a real state in whose presence other states of consciousness melted and vanished. I decided to attempt to make it reappear."