John Carter comics have been around almost as long as comic books. I have long viewed Edgar Rice Burroughs as one of the biggest influences on the early superhero genre, and John Carter as the prototype for Superman. (Sometimes I wonder why Burroughs didn't go after DC the way DC went after Fawcett over Captain Marvel, which is another story.) John Carter made the crossover to comic books within a year of Superman's first appearance, and has continued to inspire comic adaptations ever since.
Edgar Rice Burroughs had recognized the multimedia potential of his creations already during the silent film era, which saw numerous Tarzan adaptations. He had the business sense to form a corporation in 1923 and license his intellectual properties. To my knowledge the comics discussed here generally remain under copyright by Edgar Rice Burroughs, Inc. Many can be viewed on ERBzine, the Official Edgar Rice Burroughs Tribute and Weekly Webzine Site.
The First John Carter Disney Adaptation That Wasn't
Even before John Carter debuted in the comics, the series almost became an animated Disney adaptation. In 1936, Bob Clampett of Warner Brothers Cartoons predecessor Leon Schlesinger Productions approached Edgar Rice Burroughs about the possibility of doing John Carter shorts for Disney, where Clampett had previously worked. Clampett, Burroughs, and Burroughs' son John Coleman Burroughs (also known as Jack Burroughs) worked on the project for a year, but it never made it to production. Had it been completed, it would have hit theaters at about the same time as Snow White, Disney's first major full-length animated feature, in 1937.
Western, Dell, and Gold Key John Carter Comics
Western Publishing introduced John Carter to the comic medium and continued to chronicle the character for over two decades through its Dell, Big Little Book, and Gold Key lines. Dell first began featuring John Carter in May 1939, starting in The Funnies #30. The Funnies issues initially adapted the first novel in the series, A Princess of Mars, before introducing original material. Jim Gary, a King Features Syndicate illustrator influenced by the styles of Alex Raymond and Milton Caniff, drew the first few issues. John Coleman Burroughs took over art duties with #34 in August 1939. Raymond's influence was again evident in Burroughs' style. Burroughs continued on the strip until the John Carter series closed with #56 in June 1941.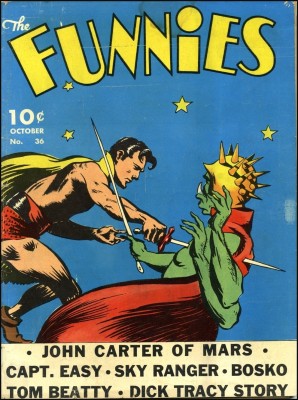 Dell reprinted art from its John Carter Funnies series in February-March 1940 as A Fast-Action Story, which was a spinoff of Dell's Big Little Books series. The art was used to illustrate an adaptation of A Princess of Mars.
The same year, Dell's Better Little Books series #1402 published John Carter of Mars, a juvenile novel written and illustrated by John Coleman Burroughs. The text was later reprinted under his father's name as part of the eleventh, final novel in the book series.
The Burroughs family then began producing a John Carter Sunday color strip, with father writing and son drawing 73 chapters. The first few chapters adapted A Princess of Mars, and the fifth chapter on began adding new material to incorporate more action, at the newspaper syndicate's request. The strip ran from December 7, 1941 to March 1943. By coincidence, the same day the strip began, Edgar Rice Burroughs witnessed the bombing of Pearl Harbor, which inspired him to volunteer as a war correspondent at age 66. Distribution was hurt by the war, and Burroughs' wartime duties eventually forced him to abandon the strip. The strip was later reprinted by House of Greystoke in 1979.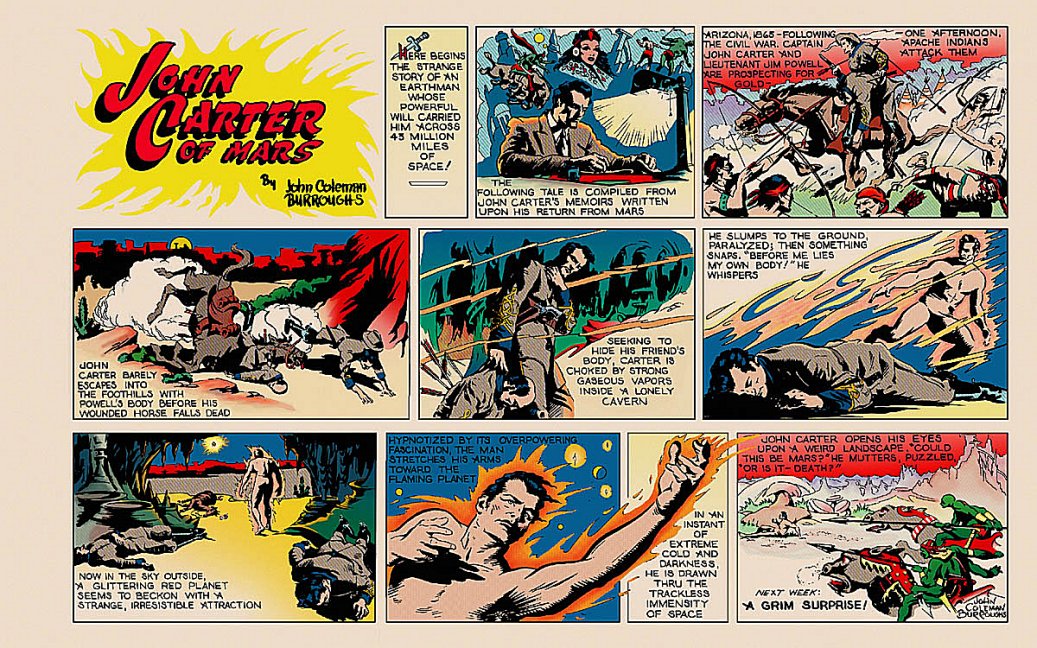 Dell continued producing John Carter comics under its Four Color line in the early 1950s. In 1952 Four Color #375 adapted A Princess of Mars. The comic was drawn by Jesse Marsh, a former Disney animator who had been illustrating Tarzan adaptations for Dell. Marsh went on to illustrate an adaptation of the second John Carter novel, The Gods of Mars,which began in Four Color #437 in 1952 and continued in #488 in 1953. The Four Color adaptations were reprinted by Dell's successor Gold Key in 1964, and again by Dark Horse Comics in 2010.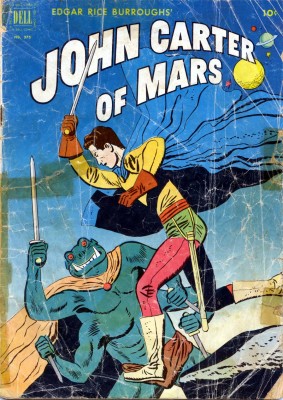 In 1958 the British newspaper Sun Weekly began running a black-and-white Sunday adaptation of A Princess of Mars. The strip was written by D.R. Morton and drawn by Robert Forest. It ran from October 25, 1958 to May 23, 1959.
DC John Carter Comics
In 1972 DC took over the license for Burroughs adaptations from Western. In April 1972 DC picked up Gold Key's Tarzan series numbering with issue #207. The issue featured a backup strip adapting A Princess of Mars, with illustrations by veteran science fiction comic strip artist Murphy Anderson. Gray Morrow filled in for Murphy Anderson on #208. The John Carter backup feature continued through #209 in June 1972.
DC then launched Weird Worlds, which used Tarzan's name on the first issue's cover to introduce readers to John Carter and David Innes, hero of Burroughs' Pellucidar series. The Weird Worlds John Carter series adapted A Princess of Mars and The Gods of Mars, with script by Marv Wolfman and art by Murphy Anderson, Gray Morrow, Sal Amendola, Joe Orlando, and Howard Chaykin. The series ran from August-September 1972 through issue #7 in September-October 1973.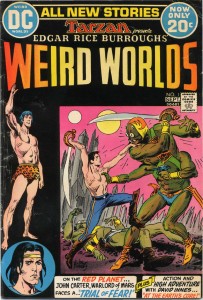 DC continued with original John Carter stories in Tarzan Family #62 through 64 from April to August 1976. The new stories were written by Robert Kanigher and illustrated by Noly Zamora and inker Vicente Doria Catan, Jr. (Vicatan). Issues #65 and 66 reprinted the Weird Worlds and Tarzan adaptations of A Princess of Mars.
DC's John Carter comics were reprinted by Dark Horse Comics in 2011.
Marvel John Carter Comics
Marvel took up the Burroughs licensing torch from DC in 1977. Marvel's Curtis Magazines imprint had previously adapted the movie version of Burroughs' The Land That Time Forgot in Marvel Movie Premiere in September 1975, with Marv Wolfman writing. Concurrent with a run of Tarzan from June 1977 to October 1979, Marvel Comics published 28 issues of John Carter, Warlord of Mars. Marv Wolfman once again handled writing duties, with Gil Kane and Dave Cockrum illustrating the first issue. Other writers and artists later worked on the series, notably Chris Claremont, Carmine Infantino, Ross Andru, and Frank Miller doing his first work for Marvel. The series started one month before Marvel began its Star Wars adaptation, anticipating the recent marketing comparison between the two.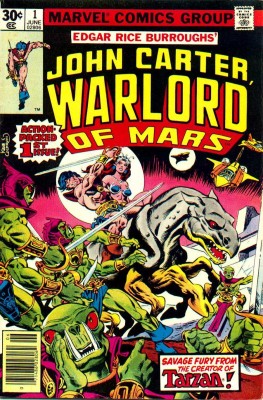 John Carter, Warlord of Mars Omnibus
Marvel's John Carter comics were reprinted in 2011 by Dark Horse Comics in 2011 and in 2012 by Marvel, which is now owned by John Carter movie producer Disney.
Independent John Carter Comics: Malibu, Dark Horse, and Others
After Marvel stopped actively publishing its Burroughs' series, independent publishers began adapting Burroughs properties. In 1992 Malibu Comics began publishing a Tarzan adaptation, which was accompanied by a Malibu John Carter. (After typing that I have to wonder if there's any relation to Malibu Ken.)
Dark Horse Comics soon inherited Marvel's licensing arrangement with Edgar Rice Burroughs, Inc. Dark Horse featured a John Carter strip in San Diego Comic Comics #4 in 1992. This was followed by a reprint of John Coleman Burroughs' newspaper strip in 1995, a new John Carter miniseries in 1996, and reprints of Dell, DC, and Marvel Carter adaptations in 2010 to 2011.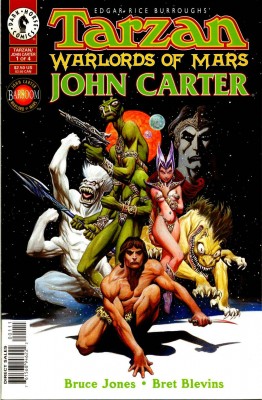 From 1994 to 1995, Gray Morrow wrote and drew John Carter stories to accompany a Tarzan Sunday newspaper strip.
In October 2010 Dynamite Entertainment began publishing a Warlord of Mars series, written by Arvid Nelson. This generated a spinoff focused on Dejah Thoris in 2011. The Dynamite series has been a subject of dispute with Edgar Rice Burroughs, Inc.
SelfMadeHero recently published A Princess of Mars as a graphic novel, with a listed availability of April 2012.
Future Adapations
In compiling this presentation, one thing I've noticed is that the later novels in the series rarely get adapted, which seems to be the fate with many series where the origin story gets revisited repeatedly. (I'm thinking of Tarzan as another example from ERB's corpus, but this also applies to Superman, Batman, Spider-Man, etc.) This is a shame, because some of Burroughs' most innovative science fiction ideas are to be found in these later works. I hope that someday we will see some of the later stories in the series brought to life, instead of seeing A Princess of Mars redone repeatedly.