A DVD review is a different from a full-fledged movie review. I make the assumption that you have seen the movie and liked it or you would not be thinking about getting the disc. Of course, many people rent discs, but often the "extras" don't come with them. This is a review of the Blu- Ray edition of the movie, which looks and sounds terrific.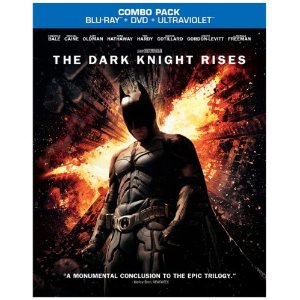 The Dark Knight Rises (Blu-ray/DVD Combo+UltraViolet Digital Copy)
There are two features on the Blu-Ray of interest to fans and viewers. Although it is broken down to several "chapters" there is a feature on the making of movie, the writing and the casting. Of course we hear again how great everyone was and how anxious they were to do the movie. Of great interest to me is how they did the special effects, especially early on, when the "bad guys" take over the airplane. They show the storyboards, the actual animation used to plan and envision the scene. That was very interesting. Another interesting chapter was on Catwoman, who Selina Kyle is never called in the movie. It was very interesting to see how they planned her costume and her stunts. I enjoyed a lot of this.
Of special interest and something well done was an hour feature on the Batmobile, perhaps next to the Joker and Robin the object most associated with Batman. They start off in the early comics and show how the Batmobile evolved from a fancy car for Bruce Wayne They showed how the car was depicted in the early serials of the 1940s.
Next stop was the major change in the comics of the early 1950s. Adam West is on hand to discuss how he used and loved the Batmobile of the TV show. The actual creators of that vehicle are also interviewed. They then go to the directors, including Tim Burton, of the next four Batman movies and they discuss what styles they wanted for that vehicle. (Michael Keaton is not featured.)
Leaving no stone unturned, next were the Batman animated series, including Super-Friends and even Batman Beyond and of, course, the latest movies.
This was an interesting, revealing and fun feature. And it was really great to see Adam West again. You know, it's almost a half a century since he first put on that costume.
Please see Roy's review of the actual movie.