It was an unexpected honor and a privilege to be selected to write the introduction to the Tales of Suspense Masterworks, Volume 4. And it is all Tony Isabella's fault.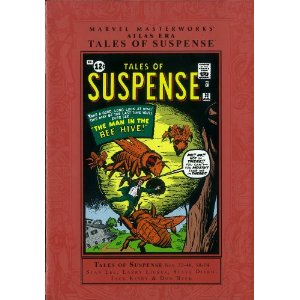 Marvel Masterworks: Atlas Era Tales of Suspense – Volume 4
Let me explain. Since 1959, I have read about 20,000 comics. My first comic was a World's Finest, "The Caveman from Krypton!"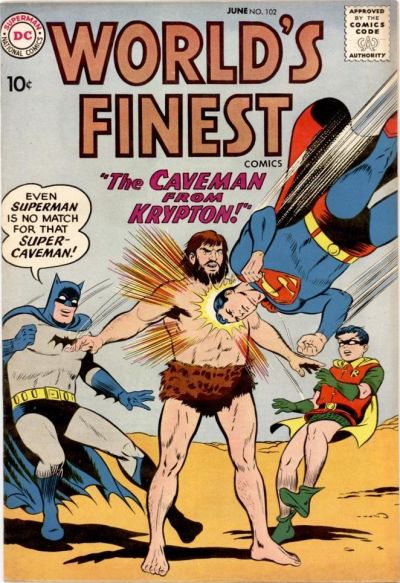 I loved it and the fillers too. I even loved the name, Tommy Tomorrow. While I bought a lot, my Aunt Gussie and Uncle Leon owned a candy store, which to me was a library. In the 1960s DC comics published a huge amount more comics than Marvel so I've actually read more DC comics that I have Marvel. But I also read Dell, Charlton, Western, and Archie comics along with Casper, Sad Sack and even Little Dot.
My brother and I lived in a room no bigger than four single beds. I could only keep a certain amount of comics and I kept the Marvels. There were many reasons, but the most important one is that I came to Marvel at their beginning. DC, and many of the other companies, had already published hundreds of comics for Superman and Batman and so many others. I liked the idea that I was in at the beginning.
In 1962 I decided to write a book about Marvel Comics. So every time I got one I typed one, and I collected them all, I typed an index card with extensive notes and credits with the thought of one day turning it into a book. By 1977, the comic industry had changed radically. It was now owned by corporations and there was not the individual creativity that I had once enjoyed. So I put away my comics and my book for a quarter of a century. At the turn of the millennium I decided to take out my comics. I noticed that many of the plastic bags that I had used had deteriorated and I went into a local comic book store to buy new bags. There, I saw books such as the Justice League Companion and the Warren Companion. I thought that I feel really bad, after doing all that work, if someone else put out a Marvel Companion.
So I went home and took out all the notes on my book and wrote a huge draft. The draft had many essays, many introductions to titles, and notes and credits for every single Marvel comic published between 1961 in 1977. I kind of was a stranger to the Internet. I just didn't use it very much. Well, after I finish the huge first draft I wondered if I should go further. Then one day, just surfing the Internet, I saw many entries by Tony Isabella, someone whose writing I always admired. Tony also had the heart of a fan and wrote for the Marvel fanzines. I don't know why, but I wrote him an email explaining my situation and asked him if I should continue with the book. I believe I even sent him a copy of the first draft.
I was a total stranger and Tony totally treated me like a friend. He gave me great advice, great encouragement and even suggested that I get involved with Internet sites that were concerned with comic book history. He recommended a few. Tony was also very forthcoming and very helpful in making me understand what the comic book industry was at the time. We sometimes forget that it was a business and not just a creative endeavor. And, I should not reveal this, and Tony may get upset, but Tony even taught me the secret Marvel handshake!!!!!!
I did get involved with certain Internet sites, fanzines and just a bunch of very nice people who were very supportive and what I was doing. Two of those people, Mike Vassallo and Nick Caputo, became very close friends. Both of them had done introductions to Marvel books and recommended me.
So about January of this year, I got an invitation from Marvel to write the introduction to the last anthology stories of Tales of Suspense. These stories, in real time, were some of the first stories that I had ever read by Marvel. So in a special Steve Ditko way, I've gone back in time to revisit my entry into the Marvel universe.
I was given unusual freedom I thought, there were no prerequisites or conditions or anything. They knew I knew this stuff and they wanted me to write about it. Mike and Nick spent a great deal of time in their introductions discussing the management of the comics and the creative people so I thought it would be interesting if I just concentrated on the stories. But I couldn't. When rereading them over and over again, I realized how much was done by Larry Lieber, who is sometimes forgotten. Larry worked on the origins of Iron Man and Thor and wrote and drew so many westerns. I thought he should be the centerpiece of this forward. Through various contacts I was able to get in touch with him and have a real good conversation. I know that he had said some of these things before, but it was wonderful to hear his perspective on an era gone by.
I also tried to use humor to make points, these stories were wonderful, always fun, abut never anything to take too seriously.
There was one thing I learned. Since Nick and Mike had discussed Marvel's distribution structure of the 1960s in other forwards, I thought it would be boring if I explained it here again. So the only major suggestion I got on my draft was to expand on that a little bit. Marvel wanted my introduction to be self-contained, complete within itself, and not really referencing any other forward. That was it.
There is something that you may not know. The people at Marvel work damn hard to get out these volumes the best they can. They are often not working with the best of materials because the original film and artwork or photo stats are just not available. Many of these comics are rare too. And they don't give up. That is, if they are publishing a softcover version of a hardcover book, such as what they did with Captain America, they still try to make it better and more accurate. They are always looking for better originals to use.
And the search for credits is also something that is never ending. I have witnessed people spending hours trying to identify an artist. And again when a new edition comes out they often updated from the last edition. It's sad that there isn't a record for most of this.
When doing a Masterwork, although I had the original comics at hand, Marvel sent me a stack of black and white proofs. Here are samples of them, alongside the originals and the finished Masterwork pages.
So if you like this volume, please feel free to say so. If you don't, please blame Tony Isabella.