Steve Brower has been a comic book fan and a researcher for many years. He recently put out a book, collecting many of his favorite western stories, entitled Golden Age Western Comics. I had mentioned earlier that the original artwork and film is forever lost from many of the companies that are out of business. So we are lucky that Steve had these comics and wanted to share them with us. These are comics not taken at random, but are chosen favorites out of his personal collection.
I bought a copy of Steve's book from Amazon and I enjoyed it, having fun in a genre I had almost forgotten about. I think Steve wanted to give us a visit to a time when TV, movies and pulps were just full of westerns and shoot ups. In fact, I got so caught up in reading these stories that I left my horse double parked! The short stories in the book were relatively simple by current standards. They featured some familiar names, Jessie James, Gabby Hayes, Annie Oakley and Blackhawk. (Okay, so it wasn't that Blackhawk). In the era of super-heroes it was so interesting to find out that the bad guys just wanted to rob a bank or a stagecoach and not take over the world. My favorite story here is that of Tom Mix. The robbers instantly kill the Post Office clerk they intended to rob, but only tie up Tom Mix, their only threat, when he comes to get them. As in every James Bond movie they give the good guy an opportunity to escape!
Steve was nice enough to give us an interview. Heck, we had a discussion.
Barry: When did you discover comics?
Steve: I actually can't recall when I started reading comics, it seems I always did, so probably as soon as I could read. I would think the origins of my interest began with the Adventures of Superman starring George Reeves. I was a huge fan. As I was of Western T.V. shows, the Lone Ranger, Broken Arrow, Branded, The Rebel, The Rifleman, Gunsmoke, Have Gun Will Travel, etc. But more than anything it must have been Superman on T.V. that led me to print.
Barry: What were original favorites? How did you discover westerns and which ones did you read?
Steve: Of course which comics I read varies with what age I was which comics I read. Among the earliest were Superman, Batman and World's Finest but I'm not ashamed to admit as a younger lad I read Casper, Richie Rich, Little Lulu, and Archie. Classics Illustrated got me through many a book report. The Western books I read were Dell, Charlton and Gold Key. Later those from Marvel, Rawhide Kid and Kid Colt. Once I discovered Jack Kirby and The Fantastic Four life was never the same.
Barry: What gave you the idea for this book?
Steve: There have been ample anthologies of late of the crime, horror and romance genres. Westerns seemed to be a neglected group. I think in part because unlike those others, there's no mitigating the portrayal of Native Americans, and so much of the material is mired in nostalgia. There are no contemporary anti-heroes here, little irony, the books are pretty straight forward. But they are fun, and I that's what readers will come away with.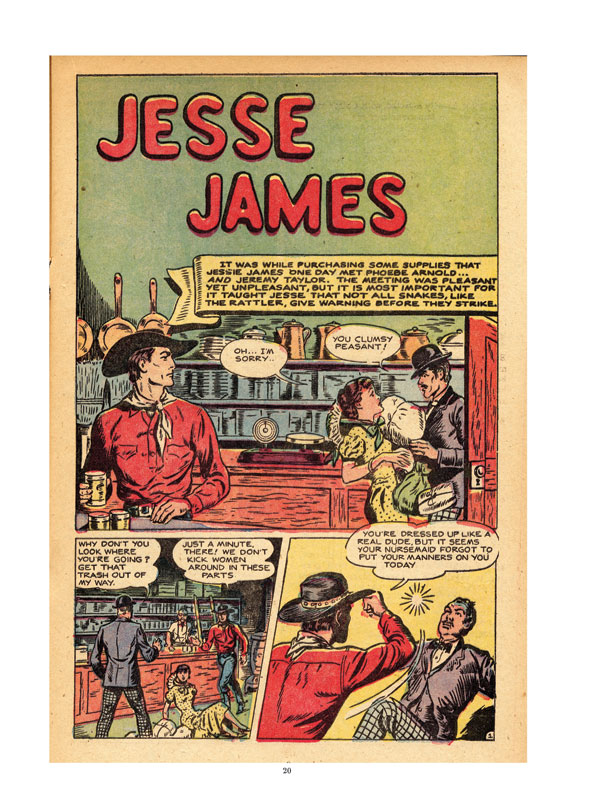 Barry: How did you decide which comics to include?
Steve: Working backwards the publisher, powerHouse, came up with a page count. That led me to choose shorter stories. There simply was no room for 22 page stories. At the same time I wanted to have a mix of "names", both Western legends and matinee stars.
Barry: Where did you get these comics?
Steve: They are all from my collection.
Barry: How did you find the credits?
Steve: Many of the stories are signed. I also researched via GDC and Jerry Bail's Who's Who. Christopher Irving, who wrote the introduction, contributed to the credits as well.
Barry: What is your favorite story here?
Steve: I know this will sound like a cop out but I like them all for different reasons. Rather than answer that directly I will mount a defense of Manny Stallman's Little Eagle. Christopher criticized Stallman's art in the intro and so far reviews have mentioned how stiff and bizarre his art is when compared to others included. So I'm going on record to say I like Stallman's art. There is something very psychedelic about that splash page and I like his page designs.
Barry: How many comics do you have?
Steve: At least a thousand.
Barry: Of what type?
Steve: Superhero, war, crime, Westerns, romance, horror, Classics Illustrated, pretty much every genre except funny animals. Lot's of S&K 50s stuff. Lots of Kirby, Ditko and of course Meskin. And all decades.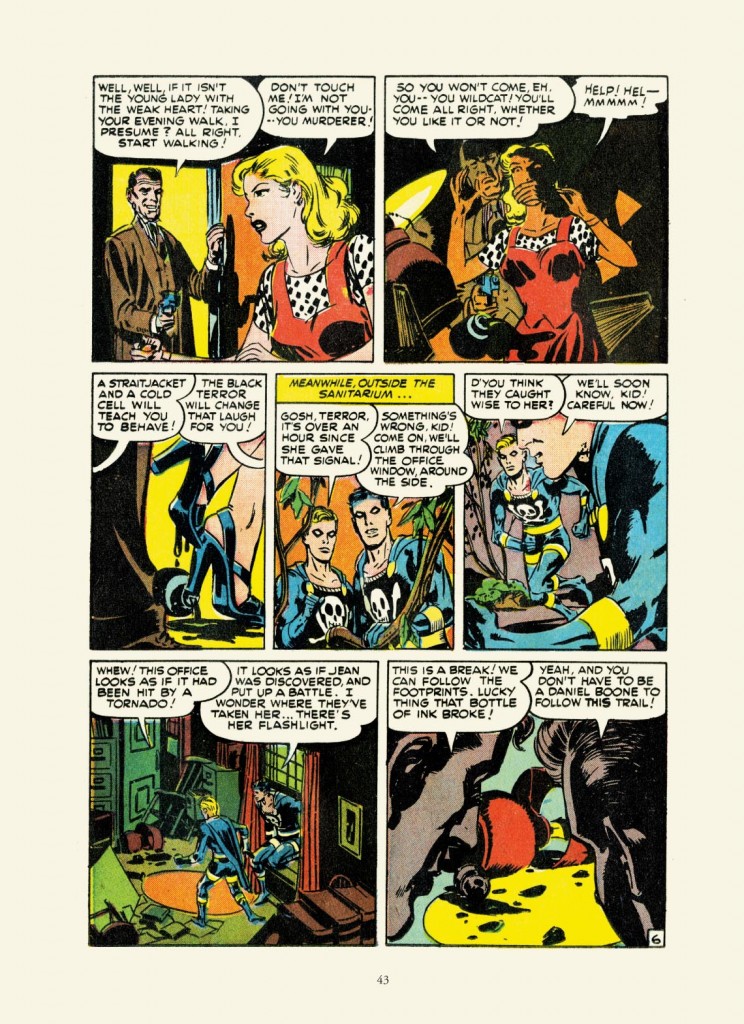 Barry: If you were able to do the long story westerns, which ones would you have chosen?
Steve: Gene Autry for one. Many of the matinee stars' stories ran the full comic length.
Barry: What were your favorite Western TV shows? (Mine were The Rifleman and Have Gun, Will Travel)
Steve: Definitely those two. My family watched Gunsmoke every week. I remember liking Branded and The Rebel.
Barry: Did you read any of the Marvel Westerns, Ghost Rider, Rawhide Kid, Two-Gun Kid?
Steve: Rawhide Kid and Two-Gun Kid, yes, Ghost Rider, no.
Barry: How about DC?
Steve: Yes, although once Marvel happened I read DC less.
Barry: Did you check out any of the recent revivals?
Steve: If you mean in comics, no. I don't read many mainstream contemporary comics.
Barry: Anything else you'd like to say about the westerns?
Steve: Just to say I've enjoyed the chat and appreciate the time.
Steve is also the author of two biographies of famed artist of the Golden Age Mort Meskin.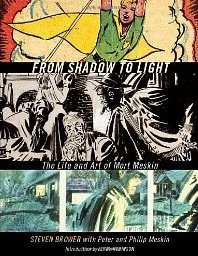 From Shadow to Light: The Life & Art of Mort Meskin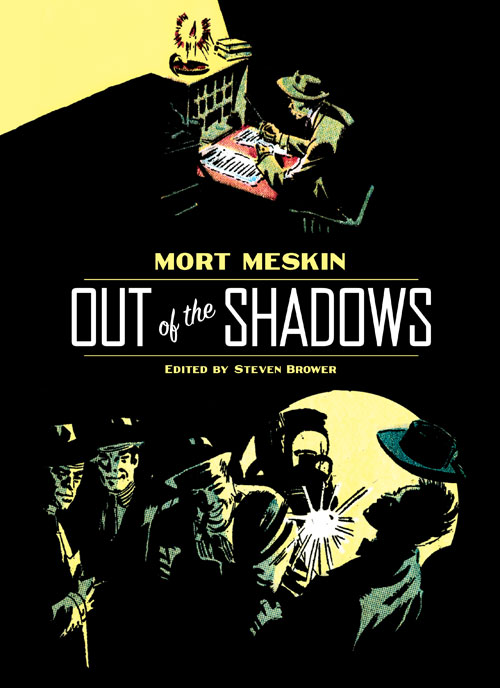 Out of the Shadows